France seduces travelers with its culture, woven around cafe terraces, village-square markets and lace-curtained bistros with their plat du jour chalked on the board. France is about world-class art and architecture. It is where the beauty of la belle France lies and the world's top destination full of extraordinary museums, galleries, ateliers (artist workshops) and hands-on cultural experiences. Food is of enormous importance to the French, breakfasting on warm croissants, stopping off at Parisian bistros, and market shopping. But French gastronomy goes far deeper than just eating exceedingly well. Its experient
Live the French lifesty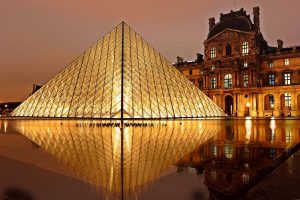 le. Embrace the luxury of simple, everyday rituals being transformed into unforgettable moments, be it a coffee and croissant in the Parisian cafe where Sartre and Simone de Beauvoir met to philosophies, a stroll through the lily-clad gardens Monet painted, or a walk on a beach in Brittany scented with the subtle infusion of language, music and mythology brought by 5th-century Celtic invaders.
While in France, take a walk barefoot across wave-rippled sand to Mont St-Michel, ride a cable car to glacial panoramas above Chamonix, or cartwheel down Europe's highest sand dune, whatever you choose to do, France does not disappoint. Its great outdoors is thrilling, with endless opportunities and the adventures.
France is an inspirational pilgrimage destination most known for the Blessed Mother's shrine at Lourdes, where the Virgin Mary appeared to a young shepherd girl; Bernadette Soubirous. Shortly thereafter the city with the Sanctuary of Our Lady of Lourdes became one of the world's most important sites of pilgrimage and religious tourism. Other places to visit while in France include:
The house of St. Bernadette where she and her family lived after the apparitions. The house includes mill, kitchen, Bernadette's bedroom, various objects, and photographs.

Lisieux, Shrine of St. Therese of the Child Jesus

Cathedral of Chartres also known as the Cathedral of Our Lady of Chartres (Cathédrale Notre-Dame de Chartres) which is known for its stained glass window

Mont St. Michel; an island commune in Normandy, France

Chateaux of the Loire Valley, architectural heritage of the historic towns along the Loire River in France.
Reserve your journey now!