A country devoted to living the good life, Spain is a country more diverse than you ever imagined.
Spain is rich with charming cliffs at Atlantic northwest that are offset by the charming coves of the Mediterranean. Wherever you go in Spain you'll be surrounded by villages of timeless beauty on hilltops.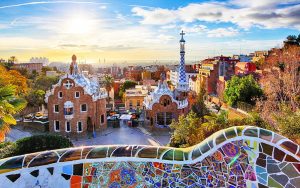 When in Spain don't miss the chance of tasting its food and wine and enjoy their incalculable variety, and traditional recipes handed down through the generations. Also, experience the culture and history of Spain by visiting its cathedrals, museums, and checking its architectural arts.
Spain is a country of large geographical and cultural diversity, often a surprise for tourists who are expecting to find a country mostly known for beach tourism. Travel to Spain and you will find everything, from green valleys, hills and snowy mountains in the Northern regions to almost desert zones in the South. Its beaches are also famous and worth visiting, small and charming creeks in the North and wide white sand beaches on the South and Western parts of the country, without forgetting the exotic black sand beaches of the volcanic Canary Islands.
One of the better known cities is Madrid, capital city of Spain, due to its central location in the heart of Spain. The city features distinctly twisting streets, all of which seem to be heading either up or down and gather in the central square in the center of the city.
Barcelona is probably one of the favorite destinations for tourists, a worldwide known city whose name recalls the awesome art of the architect Gaudi, the celebration of the 1992 Olympic Games, and the cosmopolitan atmosphere of its streets. Tourism in the city offers also the possibility of enjoying its beaches and water sports.
Reserve your journey now!